Reclaim 250 Hours a Year & Unlock the Power of AI
Embark on an extraordinary adventure to master AI-powered productivity in your professional and personal life. Get hands-on training with AI workflows tailored to save you an hour a day, every day.
Creative Intelligence is your gateway to the future of work. Throughout your journey, you'll uncover cutting-edge tools and workflows to unlock time you never knew you had.
It's time to make AI work – for you.
If you're a professional in fields like leadership, operations, marketing, sales, executive support, and customer service, you might have heard that artificial intelligence is a threat to your job.
But I see things differently.
I see a once-in-a-lifetime opportunity to use technology to save precious time – in our professional lives and in our personal lives.
Yet most people don't know how to think about AI:
Practical Use: How to interact with AI to get a useful result (and why bother consulting AI in the first place)
Context: What AI is good for and what it isn't
Expectations: How to work with AI without outsourcing your critical thinking
That's where Creative Intelligence steps in. Within our community membership, you'll join professionals like yourself learning how to leverage AI right now to save at least an hour a day.
---
Inside The Creative Intelligence Experience
Every adventure needs a map and a guide. I've designed a practical, tactical learning experience to empower you with new skills you can use immediately to start saving time – even if you've never used AI.
Discover the resources you'll access as a member:
1. AI-Augmented Workflows
Receive a new, time-saving workflow each week to save you at least one hour a day.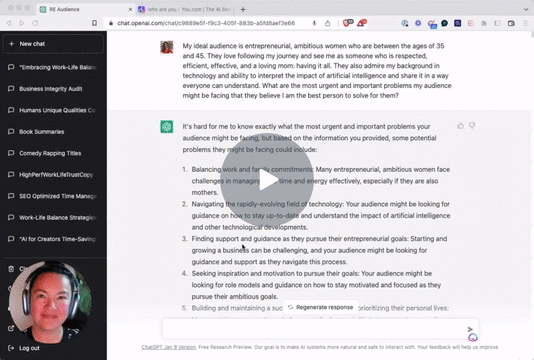 Leverage my 15 years of experience in operations and high-performance productivity coaching to streamline the everyday processes, routine tasks, and surprise requests that demand your attention and consume your time, including:
Project scheduling, to-do list prioritization, and day planning
Finding documents, answering FAQs, and internal knowledge management
Preparing for meetings, events, and speaking engagements
Managing key relationships with a personal touch like clockwork
Social selling, internal sales, and high-touch marketing
Logistics support, trip planning, and travel coordination
...and much more
2. Living Resource Library
Access an ever-expanding library of AI tool demonstrations and workflow videos, each curated to save you at least 250 hours a year.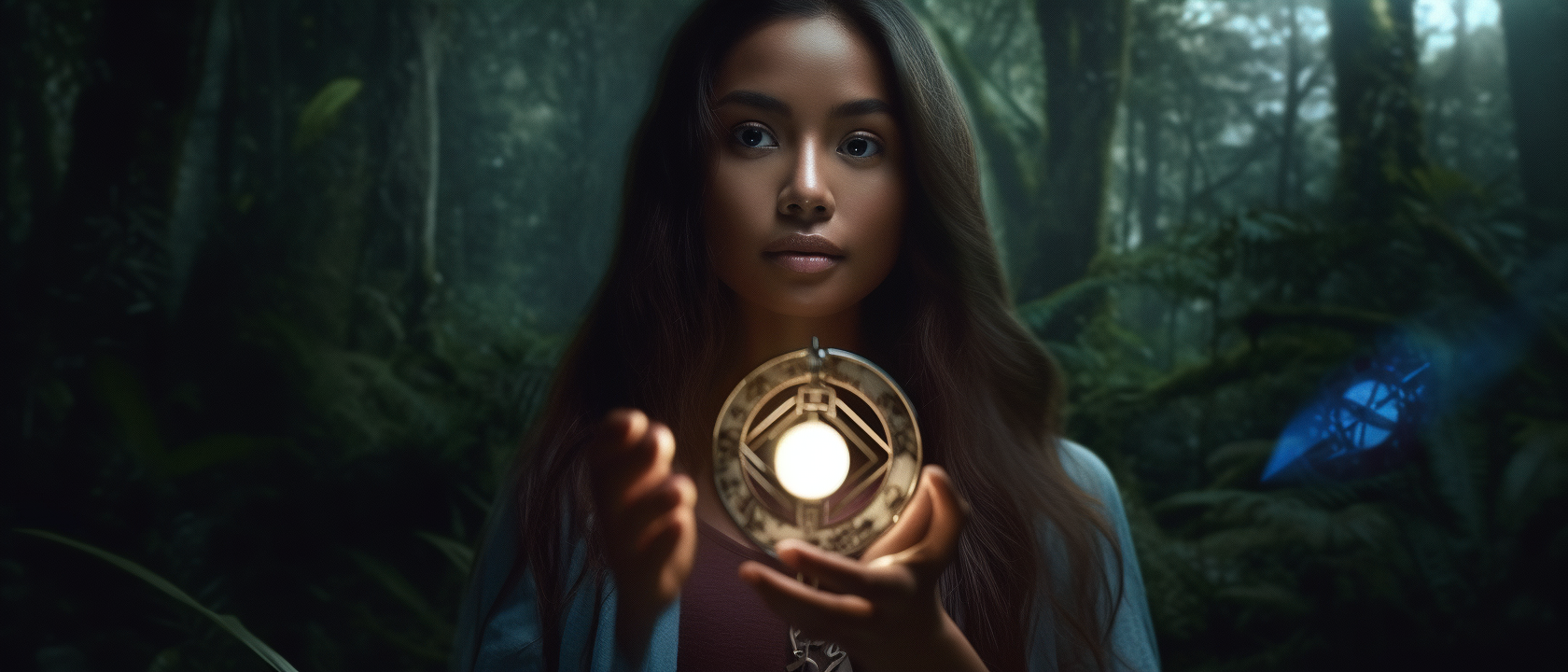 Join Creative Intelligence
Step into a world of radical time freedom, enhanced efficiency, and unparalleled ease.
Begin Your Journey
3. Weekly Live Sessions
Participate in interactive, practical workshops and learning sessions for personalized guidance on AI implementation, plus pro tips and best practices from other members.
Join our weekly live sessions, each themed on a practical business use for AI, or an area of business that AI is changing. Expand your professional network, meet other people using AI to save time, and get clarity and advice on AI-augmented productivity.
4. Private Slack Community
Connect, share, and learn from fellow members in a supportive, collaborative environment.
Some questions just can't wait a week. That's why we have Slack for impromptu conversations, tactical troubleshooting, and connection.
Everyone can benefit from the time-saving power of artificial intelligence.
However, Creative Intelligence is best suited for:
Busy professionals in leadership, operations, sales, marketing, customer service, and executive support who want to find everyday efficiencies and become more productive, efficient, and effective
Working and career moms who juggle ambition, family life, personal growth, and life's logistics, and want to increase their quality of life
Ambitious Gen Z remote workers and digital nomads who want to leverage AI to create a unique work-life balance
Productivity hackers and personal growth enthusiasts who want to leverage cutting-edge technology to get more done with less screen time
If you meet one or more of these criteria, join Creative Intelligence and start experiencing a radically different relationship with time.
---
Meet Marissa Brassfield, Your Guide to the Human Side of AI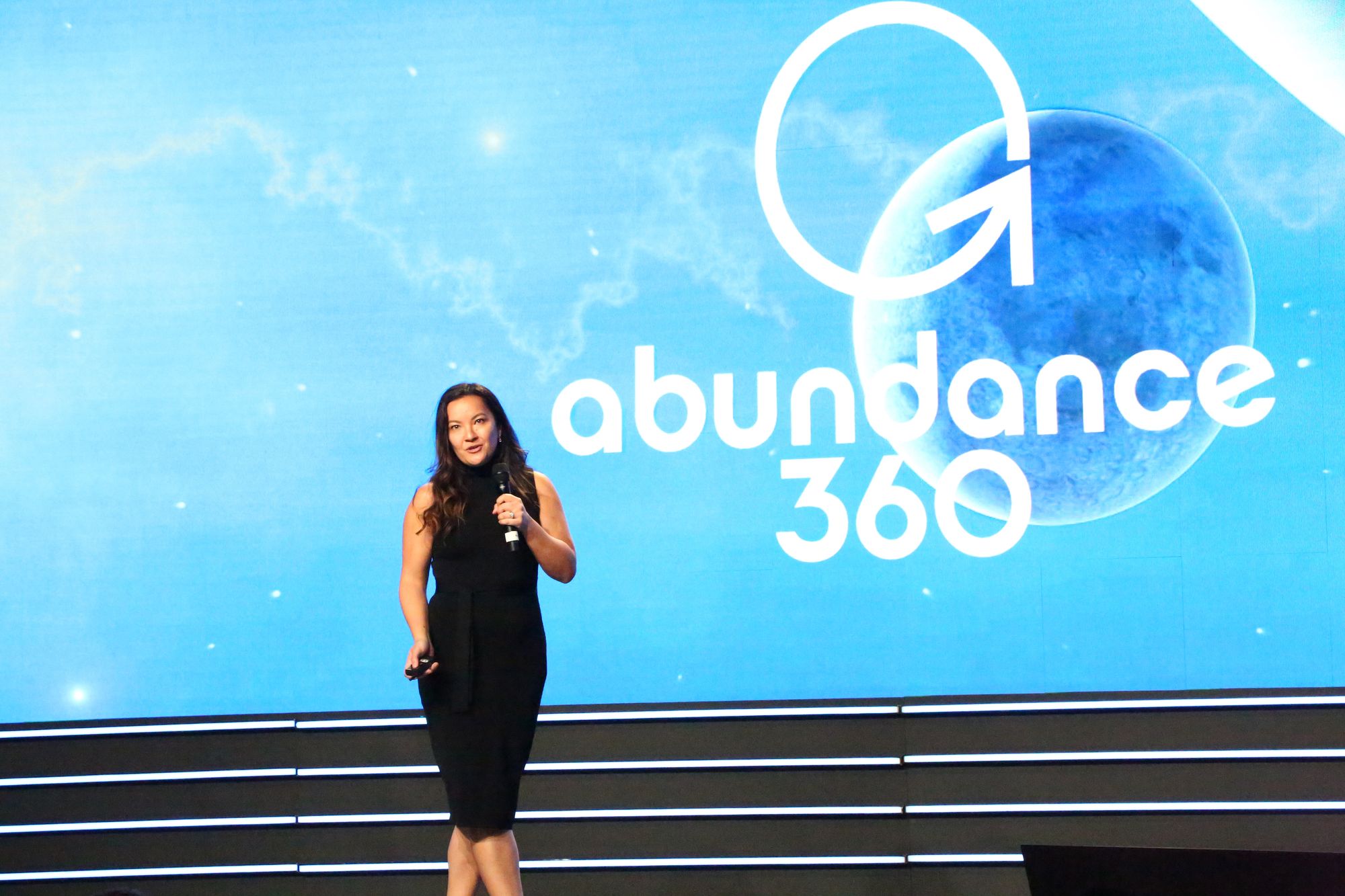 I'm Marissa Brassfield, your guide through this unique technological shift in how we work, live, and play.
Since 2008, I've worked with global leaders, Fortune 100 executives, visionary entrepreneurs, and their teams. I've coached, trained, and mentored hundreds of professionals across 13 countries – all dedicated to solving problems and saving time.
Along the way, I spent 8.5 years working with Peter Diamandis designing the learning experience for his Abundance 360 mastermind, which helps entrepreneurs forecast the implications of exponential technologies like robotics, AI, sensors, AR, VR, the blockchain, and more.
I've been preparing for this moment in AI since 2013.
I've witnessed firsthand how AI changes everything: how we solve problems, how we think about problems, and what we do with new ideas. I've also experienced the magic of learning to use AI based on your unique brain, working style, and role. It's like having a time machine in your hands.
We all need a guide to help us navigate this time in history. Unfortunately, there aren't many guides – and very few of them can lead you to a practical destination.
I'm one of the few. I've helped individuals, couples, families, and teams around the world change their relationship with time.
If you're ready to answer this call to adventure, let me be your guide.
Frequently Asked Questions
How much does Creative Intelligence cost?
The exchange for Creative Intelligence Pro is $149/month. Those who sign up on this page can receive 25% off their first month with the code adventure.
Those who apply the content, mindsets, and strategies can expect to find at least 1 hour of time savings each week. This means anyone earning at least $37.25/hour will have a positive ROI for the full year in their first month.
Can I expense my Creative Intelligence membership?
Yes! Most of our members use this as a business or professional development expense.
If you're employed: When you subscribe, your first email will contain a template you can cut, paste, and customize to send to The Powers That Be. We can also provide regular reports for leadership on your personal development hours, topics and focus areas, and other information for corporate and public sector workers' professional development plans.
If you're a freelancer or business owner: Creative Intelligence membership qualifies as a professional subscription.
Do you offer a guarantee?
Yes. Our guarantee is: you will save at least an hour of time per day if you consistently apply the content, strategies, mindsets, and resources Creative Intelligence provides.
Each resource and demonstration is especially curated because it's been tested and proven to save time. Our live spaces and Slack channel are for live troubleshooting, tactical questions, and practical discussions to support your unique needs. These resources are valuable, exclusive, and time-tested.
If for any reason you're unsatisfied with your membership or the value you're receiving, you can unsubscribe from your members' portal with zero hassle.
How long will it take before I start saving time?
Many members start saving time from Day 1 because they dig into the resources and start using them. Our promise is that each resource we share will save you at least an hour of time a day, or about 250 hours a year.
However, adapting to AI takes some getting used to. There's as much unlearning as learning. So we recommend a minimum commitment of 3 months to fully experience the mindset, real-world practice, and expert support as you start using AI.
Why is this called Creative Intelligence?
Creative Intelligence refers to the ability to think innovatively, generate new ideas, and solve problems with out-of-the-box thinking. It encompasses a range of cognitive skills, like originality, adaptability, curiosity, and the ability to synthesize and connect disparate ideas or concepts.
Artificial intelligence refers to machines and algorithms that can perform tasks that typically require human intelligence.
Inside our membership, we learn how to use AI to become even better, faster, and smarter humans. Our focus isn't about delegating or outsourcing everything to AI: it's about learning how, when, and why to skillfully use AI to accelerate your productivity and create more free time.
What do I get as a Creative Intelligence member?
The membership includes:
weekly AI-augmented workflows
access to a resource library with AI tool demonstrations and workflow videos
weekly one-hour live sessions with an expert facilitator
access to a private Slack channel for discussions and networking
How will I access the content and resources in the membership?
You'll receive an onboarding email with all the links you need to get started successfully.
Our weekly AI-augmented workflows are delivered via email.
Our resource library is hosted on Notion, with featured demos and resources sent out via email.
Our live sessions are hosted through Zoom. When you join, you'll receive calendar invites so you can RSVP with ease.
Members connect with each other through a private Slack channel. You'll be able to direct message Marissa and other members with questions.
What if I need personalized help or have specific questions about using AI in my work?
You can head to Slack and send a message in our private channel, direct message Marissa via Slack, or send her an email for personalized support.
Or join our weekly live sessions for a relaxed, fun group discussion where everyone brings in a project or activity they're working on.
Can I cancel my membership at any time?
Yes, you can cancel your membership at any time from the members' portal. However, we recommend that you participate for at least three months to fully benefit from the program, content, and resources.