Get Practical, Tactical Wisdom on the Human Side of AI
Marissa Brassfield's custom workshops supercharge teams of all sizes.
Ridiculously Efficient® founder Marissa Brassfield helps teams unlock sustainable high performance without compromising their quality of life, drawing on a curated mix of personal and professional development techniques.
Marissa tailors each workshop to the audience's unique challenges and organizational culture. Keep reading to explore content and themes from workshops delivered in 2023 or confirmed for 2024.
Ready to explore what a custom training could look like for your team, group, or event? Click the button below to schedule a short discovery call with Marissa.
---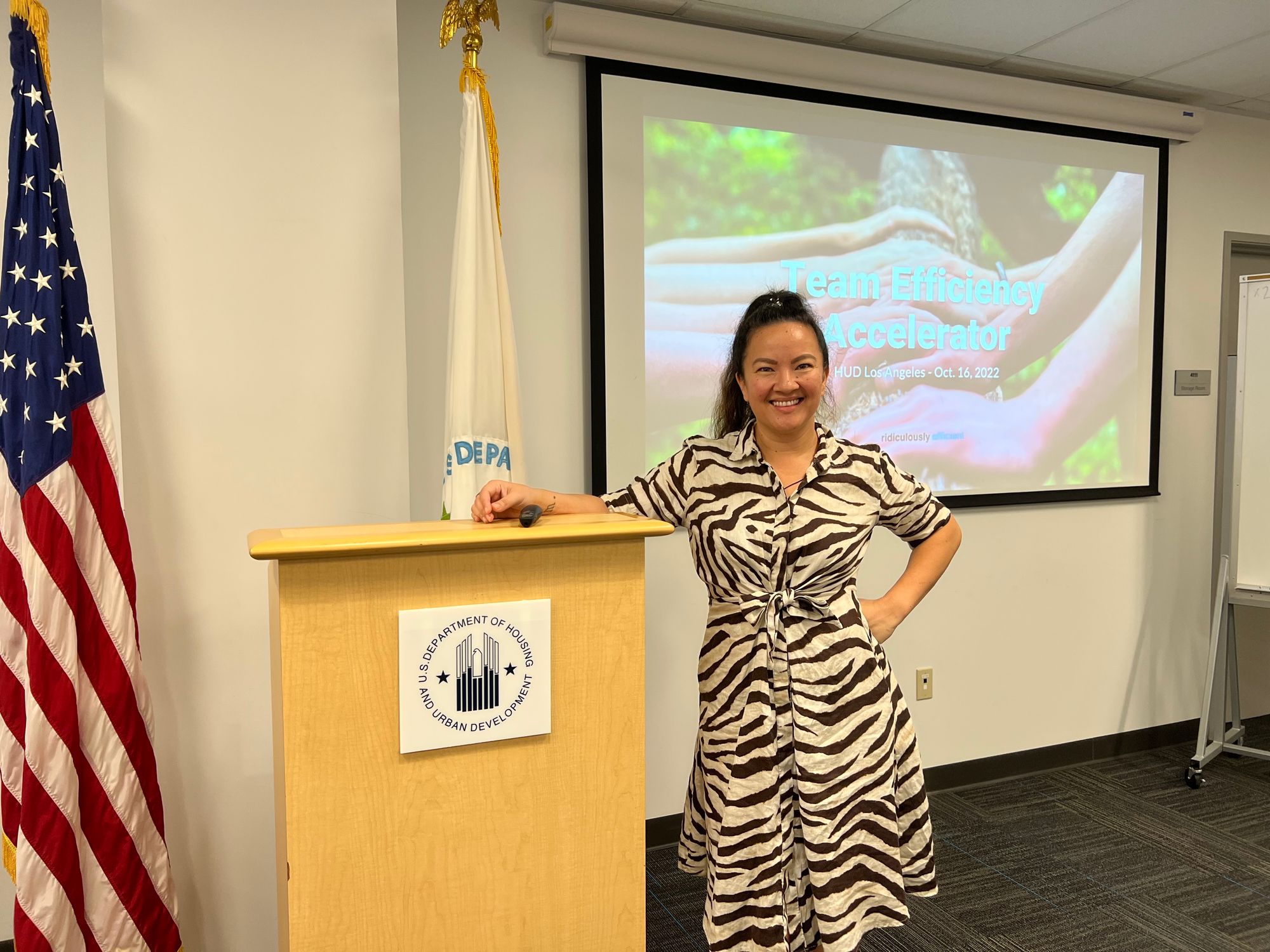 ---
2023-2024 Workshop Themes
Click each of the titles below to explore content and themes from workshops delivered in 2023 or confirmed for 2024.
Freeing Up 250+ Hours a Year With Conversational AI
Description: Learn Marissa's practical, personally proven, and productivity-boosting ways to use conversational AI to save hours a week – without outsourcing your best human skills like critical thinking, integrity, intuition, and innovative thinking.
Result: Improved AI fluency through immersion into AI-first workflows, prompt templates, and proven frameworks to leverage AI for remarkable productivity improvements without compromising sensitive information.
Description: Practice using conversational AI to audit your everyday workflows and uncover hidden inefficiencies. Improve productivity while enhancing personal well-being and future-relevant skills.
Result: Tangible takeaways that streamline daily operations, mitigating burnout and improving resilience.
Routines for Readiness
Description: Adapt to societal and business change with rock-solid personal routines that enhance rest, foster creativity, and support sustainable productivity.
Result: Personalized strategies for maintaining peak efficiency and readiness, resulting in a consistently refreshed, innovative, and accomplished daily experience.
Multitasking Mastery
Description: Harness innovative techniques to balance competing deadlines, manage multi-channel communications, and navigate shifting priorities with ease.
Result: Proven techniques to juggle multiple tasks without sacrificing effectiveness, ensuring a smoother and less stressful workflow.
Description: Dive into the dynamic changes in work brought on by technology and increased global collaboration. Strengthen the essential skills to thrive in an exponential future.
Result: Identify and cultivate the critical skills for a rapidly evolving future, ensuring continual value creation, fulfillment, and impact.
Supercharged Support In Extraordinary Times
Ridiculously Efficient helps the best teams get even better. Click the button below to get in touch and see how we can support your high-performance humans.
Schedule a Discovery Call
Marissa Brassfield has presented for organizations and startup teams all over the world, including:
Two U.S. government agencies
Communications and PR teams in the hospital, hotel, and retail industries
Tech startups and leadership teams in 13+ countries
Global nonprofits and impact organizations with a combined audience spanning 175+ countries
Marissa is a force multiplier. Over 10 years of collaboration, her coaching has turbocharged TFF and our entrepreneurs. She is an ally for anyone wanting to make a dent in the universe.

Christine Gould, Founder & CEO, Thought for Food Foundation
About Marissa Brassfield
Workshop Facilitator & Founder, Ridiculously Efficient Inc.
Marissa Brassfield is Ridiculously Efficient®. She's a highly sought after AI advisor, efficiency coach, and work-life balance specialist who's trained hundreds of entrepreneurs, team leaders, and startups in 13+ countries.
Marissa has over 15 years of experience partnering with global leaders, Fortune 100 executives and visionary entrepreneurs. This includes 8.5 years with Peter Diamandis building Abundance 360, an annual program that teaches entrepreneurs how to forecast the implications of emerging technologies.
Marissa is renowned for her ability to share knowledge in a practical, tactical way that leaves audiences feeling energized, inspired, and empowered. During the pandemic, she led 25 custom-built training events with two U.S. government agencies to help the federal workforce adjust to remote collaboration and the everyday productivity challenges of working from home.
Among Marissa's most valuable talents is the ability to help professionals access their innate strengths to navigate significant life changes and career transitions with grace, effectiveness, and practical wisdom.
Learn from her and you can't help but be inspired to build a bigger, better, and more efficient work-life integration for yourself and everyone around you.