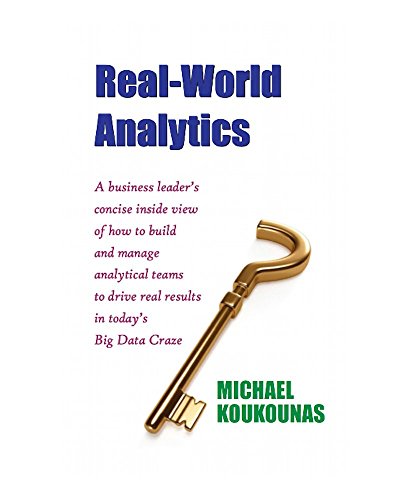 I recently spoke with Michael Koukounas, the author of Real-World Analytics. I wanted to learn how small teams can use data like larger organizations to inform their decisions.
Koukounas described 4 main steps that team members must take into consideration when they are working with big data:
Easy access to data
Domain knowledge
Consumable analytics
Maintenance
If a team cannot execute all 4 of these points, they risk missing key data-driven insights that competitors may be leveraging.
Here's how to start thinking about these steps so you can implement intelligent data analysis on your team.
[rebel]
1. Determine the data you need and how to collect it.
What if my team doesn't place a heavy focus on analytics right now?
Managing analytics is not all about having a big team and a large amount of data. It's about having the right team to determine the important data.
How do you know what the right data is?
Deciphering what data points are important in your company can be challenging. No single answer can apply to all teams. The key is figuring out what the problem is. Most people make the common mistake of spending more time collecting data than actually using it.
To ensure that this doesn't happen, reevaluate your company's Massively Transformative Purpose (MTP). When you're clear on the purpose of your company, it becomes easier to evaluate what results you generate on a regular basis. Once you know the results you are trying to achieve, it becomes much clearer what data you should collect.
2. Parse the data (with an expert's help, if needed).
Koukounas cautions that not everyone is an expert in collecting data. You need someone with experience in the field and knowledgeable domain experience. People with this type of experience do not come cheap, but they can make all the difference in your company.
3. Make the data easy to use and understand.
Now that you know what data points to collect and who can decipher them, the next step is to make your analytics consumable. Most people are not a fan of seeing hundreds of numbers on a page that have no contextual meaning. Entrepreneurs want to know the results and why these results matter to them. So the way you organize your data is crucial.
Tools of the trade:
You can use a number of different reports to display your findings. One of my favorites that I use to report on team progress is called Cyfe. This tool syncs with virtually every application to create automated dashboards so it is easy to hold your team members accountable and check their performance levels.
A few others to try:
4. Maintain the data.
Finally, what do you do once you have created this report? Creating a one-time report is great, but what if the data you are collecting requires continuous reporting and maintenance? Continuously monitoring the data and looking for trends is key in order to identify if there is a way to improve the process that currently exists today. If there is, there is a good chance that you will be able to save you and your entrepreneur time and money in the long run!
What to do next:
Determine how you specifically measure success, personally and on your team.
Identify key data points that contribute to success. When something doesn't go right, where in your systems and databases would you look to pinpoint the problem?
Once you pinpoint the problem, you can measure it against the key results you would like to achieve by identifying consistent metrics that you must hit every time.
Set up an automated dashboard to continuously analyze and report on your findings.
[/rebel]