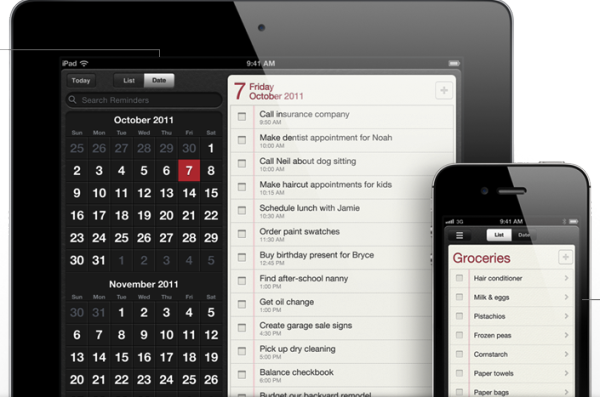 Yesterday, Apple released iOS 5 Reminders, a to-do app that joins the 200+ new features in the latest operating system for iPad, iPhone and iPod Touch. It's only appropriate, then, that we take a closer look at Reminders in today's edition of App of the Week.
Features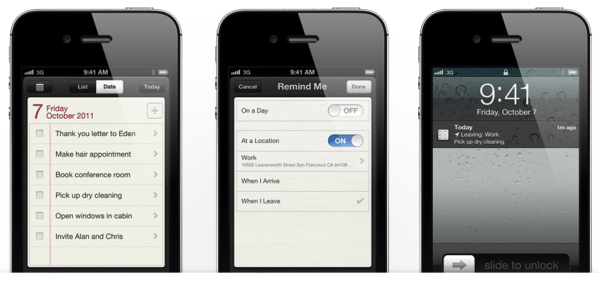 The iOS Reminders app kicks the standard to-do list up a few notches by leveraging location-based technology. Users can assign location-sensitive reminders to tasks by selecting "When I Arrive," "When I Leave" or "At a Location" from the "Remind Me" pane and assigning the location accordingly.
Using this technology, you could create a to-do that reminds you to pick up your dry cleaning after you leave work, or a reminder of your shopping list when you arrive at the grocery store. (Note: These location features are not available with the iPhone 3GS, from what I'm reading -- only the iPhone 4 and above.)
Reminders also syncs with Outlook, iCal and iCloud, pushing all to-dos to your various devices and apps. A calendar icon at the top left and a sliding date bar at the bottom of the app let you navigate between days; to return to today's tasks, tap the "Today" button on the top right.
I'll be testing Reminders alongside my to-do app of choice, Things, and will update this post with my thoughts once I've had a chance to test the app fairly. Apple users, how has your experience been with iOS 5 Reminders thus far?