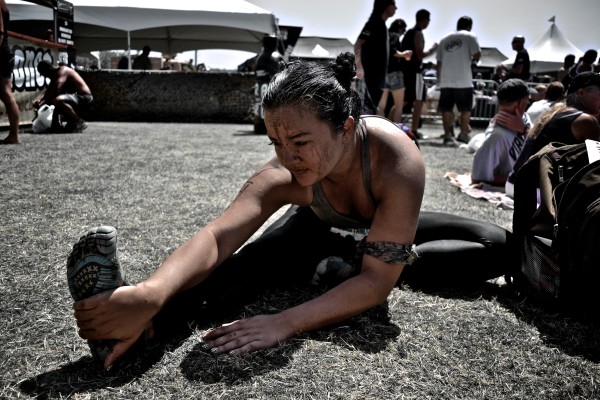 I like to go for the path of least resistance, which is why it's absolutely essential that I enable healthy behavior in my quest to get in the best shape of my life.  To do so, I had to eliminate barriers to exercise, which mostly meant that I had to tackle excuses. It's easy to come up with excuses to avoid the gym -- so easy that anyone can do it. Do any of these sound familiar?
I'm exhausted. Today was crazy. There's no way I can be active right now.
I've got to rest up. My day is packed tomorrow.
I don't have any time to work out today.
I can't do it today. I'll do it tomorrow.
Exercise is the least of my worries. I have to do X, Y and Z before I even think about working out today.
I was pretty good at making excuses to myself, but I've always actively avoided putting myself in a situation where I might have to make them to my clients. So I forced myself to exercise by volunteering to review the Insanity DVD series by Beachbody for a client site over a 60-day period. This locked me into two solid months of workouts six days a week, and Insanity was a series I'd wanted to try for some time (but, as you can guess, never got around to purchasing on my own).
A DVD-based series worked out well for my situation because it addressed all of my excuses and exercise barriers:
I don't have the energy to go to the gym. I work in my living room, and the TV is in the living room. I don't even need to put on socks!
I hate running. No running here, just lots of calisthenics, push-ups and sport-specific drills -- the kind of stuff I actually like to do.
I don't have the time to work out for hours, and that's what I'd need to do to get in shape. No Insanity DVD is over an hour, and the intensity is high enough that I wouldn't need to work out again, at first. I can start the DVD whenever I find a free moment in my day, whether it's 7 a.m. or 7 p.m.
I feel self-conscious. I don't want people to look at me while I'm working out. Shut the blinds, and no one can see me. Problem solved.
How to Enable Exercise
If being fit were easy, we wouldn't have the overweight and obesity rates we do in North America and Europe. It is hard to make a change, because you have to actually want to make that change. Most people just don't want it bad enough. I particularly like the way speaker Eric Thomas expresses this point:
Here's how you can enable your own healthy behavior, inspired by the thought process I used:
List your excuses and barriers to exercise.
Decide how you will conquer each barrier on that list.
Think about the forms of exercise you enjoy. How can you work these activities into your week?
Determine how you can set yourself up for success in terms of fitness. How can you shuffle your life to make exercise more convenient?
Outline ways you plan to keep yourself accountable.
Tomorrow, I'll share the productivity strategies I used to constrict my workday and the specific exercises I chose to make my exercise periods as efficient yet effective as possible.
Note: This is the latest installment of an ongoing series. Peruse the ever-growing archive here.