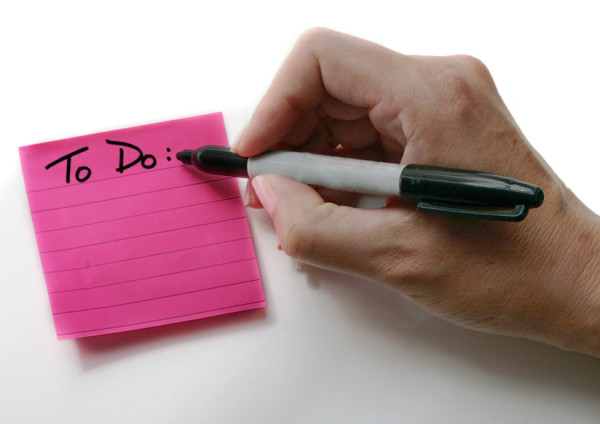 The to-do list is an interesting organizational tool that can never be done in the right or wrong way. Each person has their own to-do list writing methods, while others prefer to use apps to help them out. One way that is sure to make you feel productive is to keep your to-do lists short and sweet.
While some (like Yahoo! CEO Marissa Mayer) prefer the longer to-do lists, a shorter version that you'll actually be able to complete will motivate you, leading you to higher levels of productivity. Only include three items on your daily to-do list, listing them by priority. For the tasks that come up during the day, keep a separate list that you can glance at later. To ensure you keep your list short and sweet, use a Post-it Note or index cards.
Each item on your to-do list should be written as an action item. Instead of writing "complete research," write "find journal article about X topic." An easy way to find these action items is to break your tasks up into action steps. What is the first step in completing your task? That's what should be written on your to-do list.
For some, it might be easier to create a to-do list in which you can only view one item at a time. If you are going the Post-it route, stack the notes on top of each other with only one task listed on each note. Or, you can use Now Do This -- the website allows you to list your to-dos in the order they need to be completed. Then, they are displayed one-by-one on the screen until you've completed your list.
What's your favorite to-do list method?