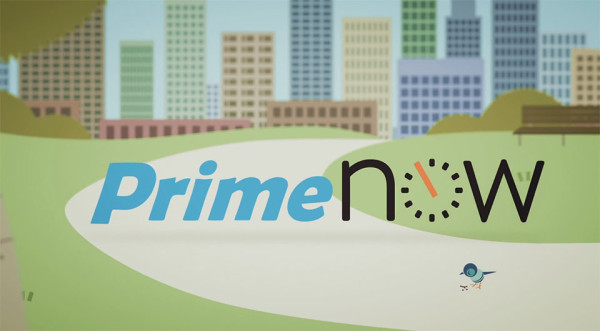 Amazon Prime Now, we need to have a discussion. This thing you do -- deliver anything I'd usually get on Amazon, from eggs to dryer ducts to Camelbak bladders, within two hours, in Los Angeles of all places -- is so fantastic, so useful, so efficient that it feels dirty.
As many Prime users in L.A. did, we got an email a couple days ago announcing the arrival of Prime Now to our region. And, like any adventurous person would, I immediately put together the kind of order Mike would run around town. Eggs. Cottage cheese. A queen-sized air mattress. A multi-pack of paper towels. Ninety minutes later, it arrived on our doorstep.
This morning, Mike and I were talking about a laundry room project. The dryer ducts we previously purchased weren't fitting with the room alignment. We weren't sure what to do next. "There's an 8-foot dryer duct on Prime Now," I said. "It'll be here between 8 and 9."
At 8:15, we had the dryer duct. Plus a box of Kind bars, and some agave syrup, and bleach.
With Prime Now, Amazon has disrupted Prime.
For existing Prime users, it's a boon. Who wants to wait for two-day delivery -- or heck, even same-day delivery -- when I can have it in an hour or two?
For those who prefer to shop for basic goods in person, consider this: on Prime Now, we got a dryer duct with a quality and length that wasn't available at a large big-box retailer specializing in renovation (no names, but a certain, uh, depot of home).
So we got the exact part we needed, at a great price, without leaving our home office or fighting lines or sitting in traffic. If that's not a win-win-win, I don't know what is.
Thanks, Amazon, for changing the game. Again.