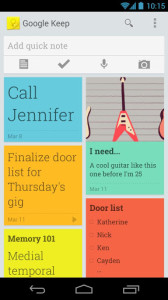 Google is finally getting into the list-making market with its new app, Google Keep. What is being described as Evernote's biggest new rival, Keep gives users an easy way to make notes and create reminders for upcoming tasks.
Keep is integrated with Google Drive, extending the company's cloud services. This allows you to make notes through the app on your mobile phone, or on the Web at drive.google.com/keep. The app also lets you record voice memos, which it automatically transcribes into text. You can also take photos through the app and edit them using Android's features, and share them through email, text message or a myriad of social networks.
Google Keep takes note-taking apps to the next level by adding a search feature, color-coding, drag-and-drop, tap-in edits and widgets for your home screen to easily add notes when you're in a hurry. One of the most exciting features of Google Keep is the ability to turn notes into checklists with checkboxes -- a definite must for all us incessant list-makers out there.
The new app is currently only available on Google Play for Android users with 4.0 Ice Cream Sandwich or newer operating systems. It probably won't be too long before Google Keep is available on iOS and Windows Phone as well.
You can learn more about Google Keep in the video below.