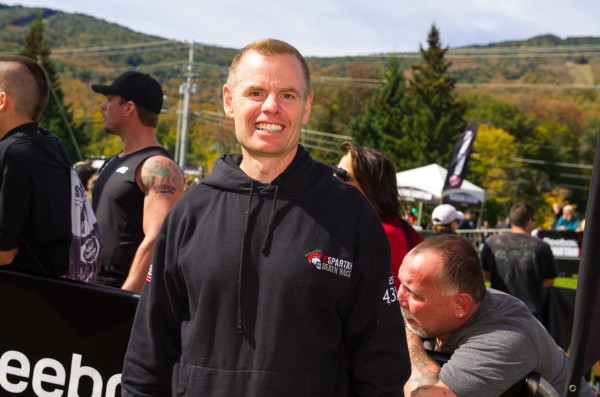 As many of you know, one of my favorite ways to de-stress is to run obstacle races, and my favorite series is the Spartan Race. When I found out that Spartan Race founder Joe De Sena was releasing a book, "Spartan Up," I couldn't resist the opportunity to pick his brain on high performance, stress, and what exactly motivates professionals like me to pay money to crawl through mud, carry buckets full of sand up treacherous hills, and climb over 15-foot wooden walls.
1. One of the hallmarks of a Spartan Race is the Hurricane Heat, where people elect to run a tougher, unpredictable version of the race alongside the team who created the course. What specifically are the motivators people say they have for participating in the Hurricane Heat?
People are motivated to come to the Hurricane Heat because they hear the great history of what it was born out of, they know the founders will be there, and they just want to push themselves to the next level. The HH is an insane test of will.
2. Chris Davis has an amazing success story that you really helped shape. This training literally saved this man's life. What are the key insights on commitment, perseverance and motivation that you got from helping Chris stay on track?
I need motivation like anyone, and helping Chris was helping me. We found a few decades ago when team racing that you always put the weakest link in the front of the pack or in charge of someone as Shackleton learned on his expeditions.
By training Chris every day, I was getting motivated. By seeing him keep the weight off it keeps me on track and I know that's the case for many people.
I love to help people, but Chris was unique. We had our share of daily fights as I pushed him; I remember once him telling me he wanted his liver checked as I was not a doctor, and only eating raw fruits and vegatables was not healthy. I responded with: "Did you get your liver checked when you were eating McDonalds and Sprite?"
3. People often fear or resist their own greatness. I found a great deal of confidence while running Spartan Races, and it's helped me personally and professionally. What happens out there on the track that's so different from the standard leadership/personal development coaching? Seriously -- running a Spartan Race has been better for me than any self-help book.
It's better because:
Your mind gets rewired under stress, not by sitting on a leather couch talking to someone.
When you are in a peak state you are most open to new ideas.
Obstacles and heavy physical activity releases lots of natural drugs into your body.
The brain sits inside the body [and] the body is happy when it is doing what it was designed to do: Spartan Races and Spartan training.
4. What are your favorite productivity tips and strategies within the Spartan Race team? Any best practices, rituals or habits to share?
Simple.
Wake up early. Work out early. Drink water; its all you need as a drink. Go to bed early. Little decisions matter. When you think you should go the easy way or the hard way, go the hard way. Do today what you were thinking of doing tomorrow.
5. Some Spartan Race obstacles are an instant shock to the system, and this forces us to react instantly. Short of having people plunge into icewater, how would you suggest that entrepreneurs shake up their routines and standard ways of thinking?
Step out of your comfort zone. Push limits. Set big goals.
Meet new people; don't waste time putting meetings off for weeks, we all have time to do lots of meetings. Take them, you never know where they lead.
Make sure that you are doing each day what is required to hit your goals. Your daily routine is your spear, and if you want to hit your targets you need to make sure your spear and targets align.