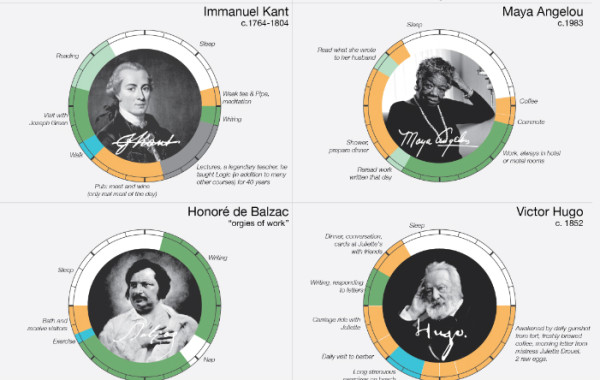 We've talked a lot about how routine can help you reach your full potential, and have even highlighted the routines of some pretty productive people. But, how do especially creative people design routines? I, for one, still struggle with the idea of routine because I don't know when I'm going to feel creative (even though I kind of do know when). Mason Curry investigated the daily rituals of some of the world's most creative people. Some of them had pretty disciplined routines throughout their lives, while others stuck to a specific regimen only while working on particular projects.
The poster below from Info We Trust helps us visualize exactly how people like Charles Darwin, Maya Angelou and Ludwig Van Beethoven would spend their time. Each of the wheels presented represent a 24-hour time-period. The dark green represents primary work, the light green is other work, the orange is social and meals, the blue represents time spent exercising, and the grey is time spent trying to make ends meet.
What this poster teaches us is that every person works and lives differently. Some prefer to perform primary work early in the morning, while others will choose to do the same later in the day.
See how the world's most creative people spent their time in the poster below. (Click image for bigger version.)