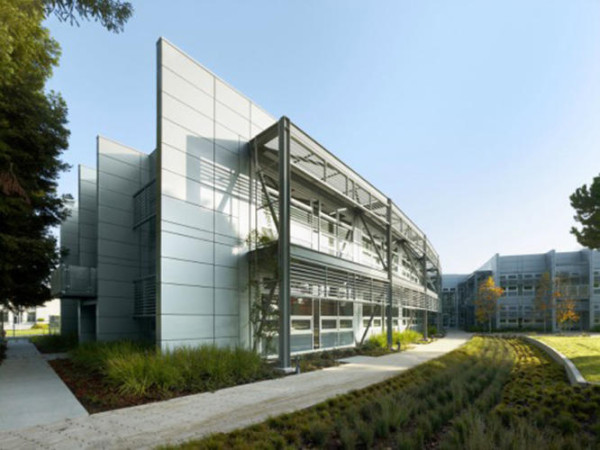 It's a nice sunny day, but you're stuck indoors at the office, staring longingly at the ugly window blinds. Simply opening a window to get some daylight can do wonders for your mood and productivity. But, the outside air can increase energy costs and mess with the otherwise comfortable temperature in the room. A new advancement in glass technology might allow you to have it all.
View is a company situated in Silicon Valley that has recently raised $100 million to expand their business. They've designed the "Dynamic Glass," which works in a similar way that sunglasses do -- by changing itself depending on light and tint. It works with the help of an electrochromic coating which sits in between two layers of glass. From the inside, the windows look clear, but from the outside it can change between four tint levels. This is dependent on outside sunlight, user preferences, or manual directions which are controlled from a panel or smartphone app.
A company will spend more on View's glass than a typical window, but the company notes that using their products will decrease annual costs for lighting, heating, cooling and ventilation by 20%. Some benefits to the smart glass are obvious -- it's better for the environment and will save companies money over time. However, some users of Dynamic Glass, like W Hotel in San Francisco as well as hospitals and health centers, are using the windows to boost the mood of visitors.
"There's a lot of our well-being tied to [windows and buildings], which then impacts our happiness and certainly our productivity," said View CEO, Rao Mulpuri.
Dan Picket, a partner at architecture firm Moody Nolan, is currently working on his second project involving View's glass -- an office building for 800 employees in Louisiana for CenturyLink's Technology Center.
"This is still a very new technology. Because of the cost, not every client is going to take a look at it. Once people see the benefits of using View glass, and how it will positively affect the performance of the building over time, I think we'll see that start to change," Pickett said.
It's no secret that daylight can alter our moods, energy and overall productivity. This new technology might be the answer to a dilemma that many workspaces face. I, for one, wouldn't mind working in a building that is both sustainable and puts me in a good mood.