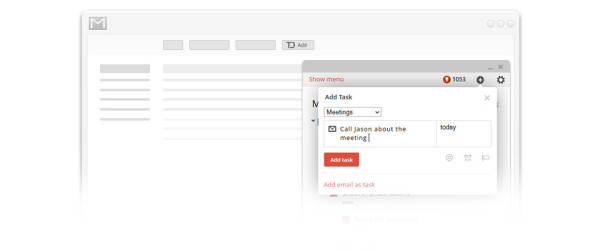 Todoist has launched a Gmail plugin to make organizing your life a little easier. The to-do list app integrates your task list into your email account, so everything is in one place.
As someone who hates having to use several different apps and tools to organize my life, I love the idea of having everything all in one place. The new Todoist plugin places a little window within your Gmail interface that lets you view, add, and check-off tasks. Basically, everything you use Todoist for, you can now do right from your inbox.
Even more impressively is the "Add Task" button that comes with the plugin. As you are reading emails, you can add tasks to your list with a quick click of a button. The plugin also makes it super easy to send out emails. If you've added a task that involves sending an email, you simply click on the task in your list and the plugin will take you straight to a new window to compose the message, with the recipient's email address already added.
Overall, the Todoist Gmail plugin will certainly help streamline your productivity tools and will even help reduce the number of steps it takes to add and delete things from your to-do list.
Learn more about Todoist's Gmail plugin in the video below.