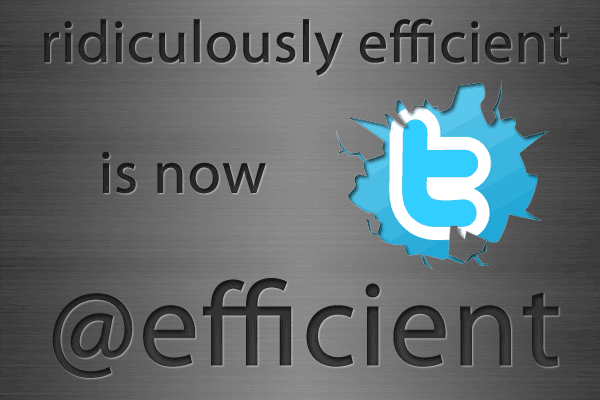 Username squatting is an ever-growing Twitter phenomenon, and in the interest of branding, I'm sharing a case study on how Ridiculously Efficient won the @efficient username from a dormant Twitter account holder. Twitter's explosion has caused brands, bloggers, gurus and casual users to scramble for suitable usernames; unfortunately, over 50 percent of Twitter's 200+ registered user accounts are inactive. The person to whom @efficient belonged as of yesterday, for example, hadn't tweeted since 2008.
To reinforce my focus on efficiency, I wanted to transfer @brassfield, my freelance moniker since 2009, to @efficient. I have a pending trademark registration with the USPTO for Ridiculously Efficient, and I used the serial number I received from that transaction to fill out a trademark report with Twitter Support on October 29.
This afternoon, a Twitter Trust & Safety rep emailed me to ask whether I'd like to 1) have @efficient replace an existing username or 2) create a placeholder account for them to use for the transfer. I replied with the former, and within minutes, I became @efficient.
How's that for ridiculously efficient social media branding?