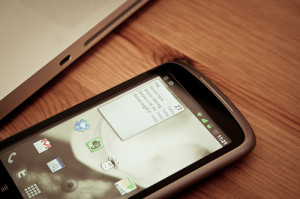 Increase your productivity and stay on top of your tasks with the help of these five apps for Android. Each of these apps works great for managing to-do lists and making sure you never forget a task.
Remember the Milk is an online task management tool that lets you keep track of everything you have to do in one place. You can take the app with you on your Android phone, where you can add and complete tasks, organize your priorities and search through your notes. There is also a pro option that has widgets, notifications and auto-syncs with your online account.
2. Any.Do
Any.Do is a simple to-do list app with a nice interface that helps you stay on top of the many things you have to do. This app can sync across all your devices and gives you a little reminder when something is due.
3. Evernote
Evernote is the app that makes sure you never forget anything ever again. Keep track of your on-going tasks, take notes, capture and attach pictures, and record your own voice reminders. All your notes are searchable and you can sync your notes across all your devices.
4. Wunderlist
Wunderlist is the list manager of all list managers. This app comes equipped with reminder notifications, subtasks and notes to make sure you are always organized. The app syncs across all your devices and you can even use the app to collaborate with colleagues and friends.
5. Asana
Asana, the collaborative task management tool, has just released its app for Android. The app lets you create new projects and tasks right from your phone, as well as complete, re-assign and edit existing tasks. Asana's big selling point is the ability to create several workspaces -- one for each client, separating work and personal, or one to share with your friends.