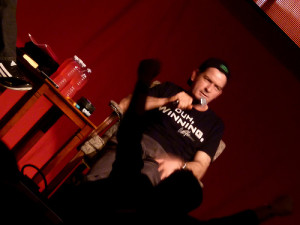 Your next productivity inspiration might come from Charlie Sheen's bosses, the producers of FX comedy "Anger Management." The show was given a 10/90 deal -- if the first 10 episodes of the series received high ratings, the network would ink a deal for another 90 episodes. But, there's a catch. It all has to be completed in two years.
Executive producer of "Anger Management" Bruce Helford is no novice to the world of sitcoms, but he has certainly never been tasked with producing so many episodes in such a small amount of time.
"Where a lot of guys probably would have been really daunted -- and I think a lot of guys probably turned down the project because it seemed too hard to do -- I was thinking, 'How do I do this? How do I make this viable? How do I do this without killing everybody?'"
To top it all off, Helford was given a budget that is half of what he was used to on his past projects that include "The Drew Carey Show" and "George Lopez."
Plan for Success
Part of Helford's success is that he produced the first 10 episodes under the impression that they would get the ratings that FX required to sign on for another 90. Helfrod had to come up with a production structure that allowed all 100 episodes to be completed in two years, and a new episode to be aired almost every week during those two years.
Keep the Balance
Other shows in similar situations have chosen to shoot three episodes a week, but Helford decided two a week was best, with six-week shooting blocks followed by a six-week break. This still gives the actors ample time off and the writers an extra six weeks of nonstop writing time. Most sitcoms shoot one episode a week, but take up to five years to achieve the 100-episode mark.
"I totally believe that the old model of taking a week to do a show like the networks still do is absolutely a waste of time and I always felt that," Helford said. "I always felt it was overkill. We overthought things, the actors were over-rehearsed for the episode and everything else. We just made the work fill the time, even though we felt crazy busy, it was just one of those things where it was an excess of time to produce it. That I've always felt. I had a belief that doing it faster would actually make things better because you have more spontaneity, which proved true."
Creativity Thrives Under Pressure
In a traditional multi-camera sitcom, the week begins with a table read of the script. It would undergo changes, then rehearsals would begin and changes to the script would be made up until the end of the week when the episode would be shot. In the case of "Anger Management," Helford says he doesn't need all that time to make changes. A table read is enough to show where problems might lie and what changes need to be made.
"Anger Management" also doesn't shoot with an audience, so they can shoot an episode for up to two days instead of one very long day.
"What we do now is literally we read at the table, we make adjustments that night, the next day or Monday or whatever, we have the director put a scene on its feet. We watch it again, we make changes, the actors go off and get into makeup, we all come back together when the cameras are ready and we shoot it and we throw that scene away. We're done, we go to the next scene."
This model has forced the actors to hone their characters, keeps a sense of spontaneous creativity on set and gets rid of all wasted time. The key to keeping this up is incredible organizational skills and a structure that cannot be tampered with.