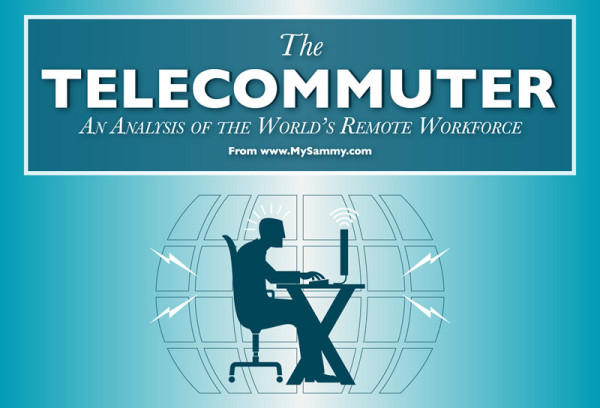 Telecommuting is a growing trend that gives people the flexibility of working when they want, where they want. This trend is growing around the world and the infographic below from MySammy gives us an analysis of the growth in the world's remote workforce.
According to the infographic, 20% of the entire world's workforce telecommutes. Almost 20% of these telecommuters work from home every day. Data from 2010 found that 26.2 million people in the U.S. alone are teleworkers, accounting for almost 20% of the American adult workforce. The majority of companies with more than 2,500 employees allow telecommuting and more than a third of companies with less than five employees do the same.
The majority of those surveyed value the ability to work from home quite high. 89% listed telecommuting as a major job perk, along with salary and reputation. 10% of tech professionals said they would even take a pay cut for the ability to work from home.
However, the infographic also shows a few downsides to working from home. Nearly half of those who do telecommute admit to watching television or a movie while they are supposed to be working, and another 20% admits to playing video games while they are supposed to be working.
You can learn more about the world of telecommuting in the infographic below.