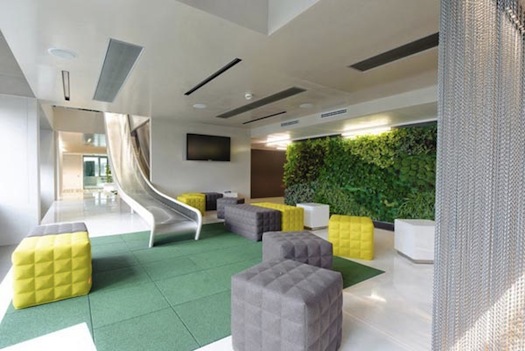 The Microsoft Vienna offices prove that the global tech giant isn't messing around when it comes to luxurious design. After winning an architecture competition to design Microsoft's Vienna base, Austrian architectural firm INNOCAD Architekur got to work on the grounds.
Set up as an oasis of floor-to-ceiling glass-encased meeting rooms and wide corridors with plenty of open space, INNOCAD architects achieved their goal "to intertwine and harmonize physical virtual and social working environments."
There's a calming aquatic theme in one room and an organic space with wooden floors in the next. Cozy and inviting, the lush space offers a comforting yet motivating environment for Vienna-based Microsoft employees to excel. Check out more photos of the headquarters below, courtesy of PSFK.