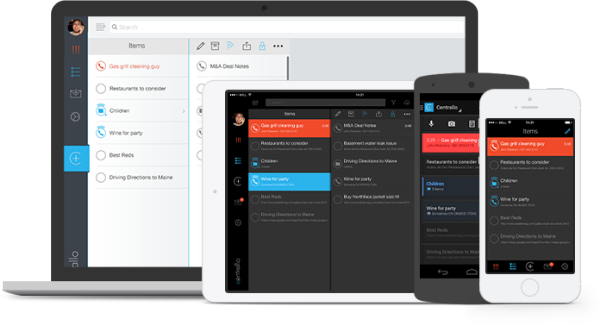 A lot of times, us list makers find ourselves much more disorganized than we intended. Our process usually involves notebooks and sticky notes, lost lists and the overwhelming inability to identify where to start. Centrallo is an app that not only centralizes all your lists in one place, but it also helps you identify your priorities.
Centrallo is available on all your devices, so you can access it from anywhere. It's basically a list-lover's dream, giving you the ability to make lists within lists, and import photos, videos, links, voice notes, and contacts.
We spoke to Centrallo's founder Michael Sher about the app and why it's the only list-making app you'll need.
1. What sets Centrallo apart from other productivity apps?
The user experience across platforms; iOS, Android, and web are all simple, intuitive and highly addictive. And the synchronization is automatic and fast.
Also, unlike the majority of productivity tools in the market today, Centrallo provides third-party content hooks into Dropbox, OneDrive, Google Drive so that any content can be accessed and shared. In addition, we support video, photos, voice notes, location-based reminders and much more.
Lastly, any list can be published via a private web link so any content can be shared with anyone – and there is no need to be a registered Centrallo user to view content.  Lists can be password protected as well.
2. Lists are a central theme in Centrallo (which I love!). What inspired this and how does Centrallo help in keeping a person's many lists organized?
Lists within lists within lists is a key theme in Centrallo and I specifically wanted to build this capability since no one offered it. I also needed the feature to organize myself personally. Not only is it a competitive differentiator, but this is how most people would prefer to organize themselves.
We provide best practices and examples for how a Centrallo user could organize their lists, but we don't physically help keep users lists organized.
3. The 'priorities' tab is another interesting feature. Why is it so important for people to have a specialized place to list their biggest priorities?
A few reasons we built this feature. 1) People want/need a view of their most important priorities – so we created a special tab specifically for this capability.  2) Centrallo users can prioritize any list or item inside a list from any list hierarchy, meaning that if I have 3 lists in a hierarchy (Trips > San Francisco > Hotel), I can highlight any piece(s) of content as a priority, and that content shows up in my Priority tab.  VERY COOL feature that we don't publicize too much – yet.
4. How does the Centrallo team consistently stay efficient? What tactics and methods are used?
The team shares lists in Centrallo and any content added gets distributed and pushed down to their devices in real time. We also have added push notifications so in-app notifications can be sent when shared content is added, edited, deleted, etc.
5. What is the one thing you do every day that keeps you productive?
I try to swim or exercise at least once a day. It keeps my mind fresh, allows me to plan my day's priorities and feel refreshed throughout the entire day.