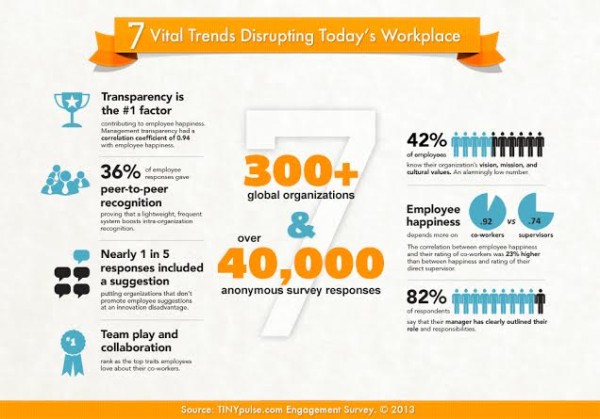 Employee happiness is much more dependent on relationships with coworkers than it is with direct managers. A recent survey from TINYpulse found that an employee's job happiness is highly weighted on their team. When asked, "What do you love about your work," a whopping majority of participants chose "People/Coworkers" -- a correlation that is 23.3% higher than that of direct managers.
"The implications of this trend are profound and suggest that every person in a company plays an important role in the health and happiness of a vibrant employee culture," the TINYpulse survey reads. "It's not just the CEO and one's manager anymore. Just like every member of a football team plays an integral role to the success of the overall team, each team member means even more to the other team members than the manager does now."
Of these coworkers, it is team play and collaboration that respondents love most. Others also cited knowledge and attitude as reasons why they love their coworkers. Interestingly enough. the survey found that those who were happy with their jobs were also happy with their coworkers. On the flip side, those who were unhappy with their jobs were also unhappy with their coworkers. This is an interesting correlation, showing just how important company culture, employee engagement and hiring employees that mesh well together is for any organization.
Another major factor of employee happiness is management transparency -- even more so than employees' relationships with coworkers.
"Every organization should be thinking about how they can be more transparent. It is one of the lowest to no cost initiatives to tackle right away. But of course, it requires an ongoing commitment from management to be more transparent to the very people they so carefully brought on-board. At the end of the day, to give is to get," the survey reads.
Additionally, less than half (42%) of survey participants said they know their organization's vision, mission and values. This is a bit alarming since it is vital in building a culture of happy employees that each of them know what they are truly working toward. Without this, the possibility of disconnected employees is likely to rise.