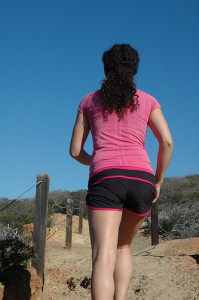 Note from Marissa: Ridiculously Efficient CCO Melody Alderman is training for her first Warrior Dash next summer and is brave enough to document every step of her journey. Read on for her latest entry.
Getting back on track never felt so good. After falling short during the holidays, this week has been dedicated to re-committing myself to the goals I set in place.
This is a journey of self discovery and one of the main things I have discovered, is how many of us tend to sabotage ourselves. However, being able to pick up the pieces again and move forward can be the greatest victory. It's easy to find excuses to fall. It takes courage to stand again, and that's what I'm doing. That's what I'm trying to do every day.
One of my favorite quotes is from the lovely Audrey Hepburn. She said, "Nothing is impossible. The word itself says, 'I'm possible!"
My goal for the next week is to remember those words. Whenever it gets difficult or I feel discouraged, I am going to do my best to search for the 'possible' inside of it all.