[contextly_auto_sidebar id="Jj9FhsUtVnxeLg3o0kjnzTn6qcvfumRV"]As much as I talk about the importance of an inspiring work environment, I don't think I've ever shared mine. In honor of my new officebar sanctuary, I'd love to show you around.
Update: I was quoted on this officebar in the August 2015 issue of Entrepreneur magazine. Check it out here.
The Shed
We started off with a Costco shed, thinking it'd be easy to assemble in an afternoon. Imagine our surprise when a truck arrived and dropped off stacks on stacks of perfectly cut wood and a thick instruction guide.
Many, many trips to Home Depot later, we got this. The whole process took two guys in their late 20s a couple weeks to build, insulate, roof, paint and finish. (Brian and Mike -- I'm forever grateful for your hard work!)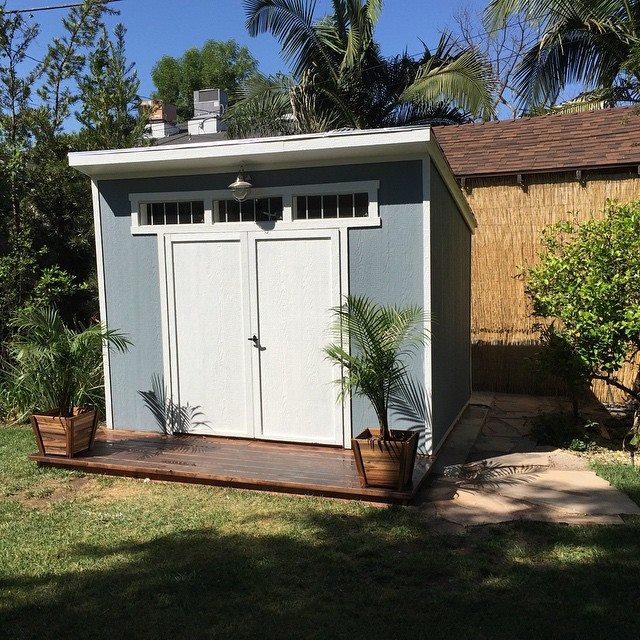 The Story
The reason this shed is here is because following my mom's death in June 2013 and my dad's death in December 2014, Mike and I decided to move from our San Diego apartment into my now-vacant childhood home, rather than selling it or renting it to strangers.
As you might imagine, I have lots of memories in this house... and as a result, no real clear workspace that inspired. The backyard, as the largest part of the property, was a prime "fresh slate" opportunity for us to create my sanctuary.
Interior Details
Mike and I love to travel, so we knew we wanted this room to have a retro airport lounge vibe.
My dad used to work for TWA back in the day, so we picked up some old airline posters from significant cities to us.
We found the chairs from a beautiful retro-modern furniture shop here in the Valley. And the awesome Kepler 16-b poster was NASA swag at this year's SXSWi.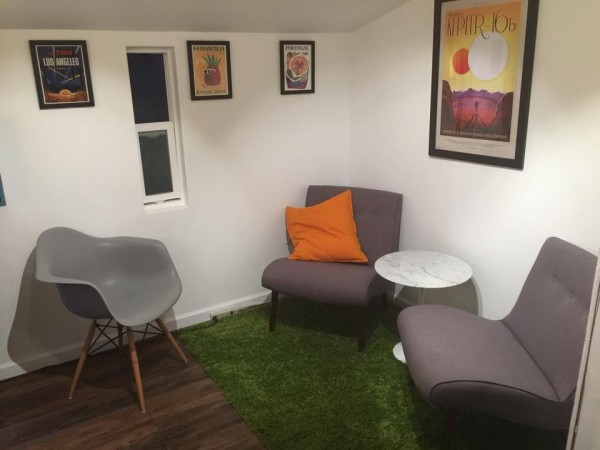 Since that original photo, I've added a few touches: live orchids, some magazines, and Yuengling coasters as a nod to my Philly years.
Here's how it looks right now, with this morning's light filtering in. The three little owls are a nod to my favorite animal and the three-person family unit I grew up with.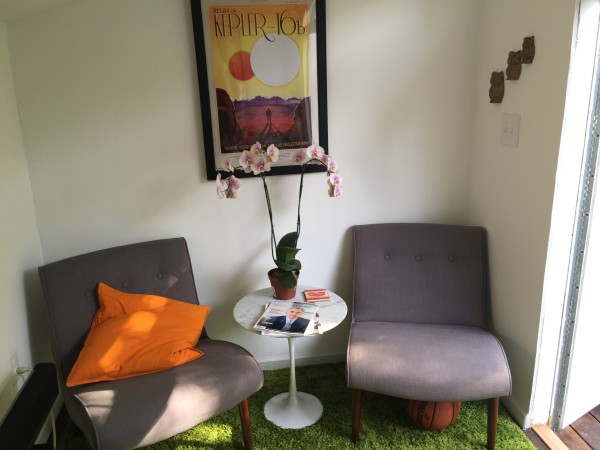 Another important facet of the Ridiculously Efficient officebar sanctuary is its off-hours use. This isn't an all-work-no-play household, so the office had to follow suit.
We entertain a lot -- every other weekend, we've got the grill going and people in the backyard having fun. So we added a beverage cooler and bar setup, thanks to some IKEA shelves and push lights.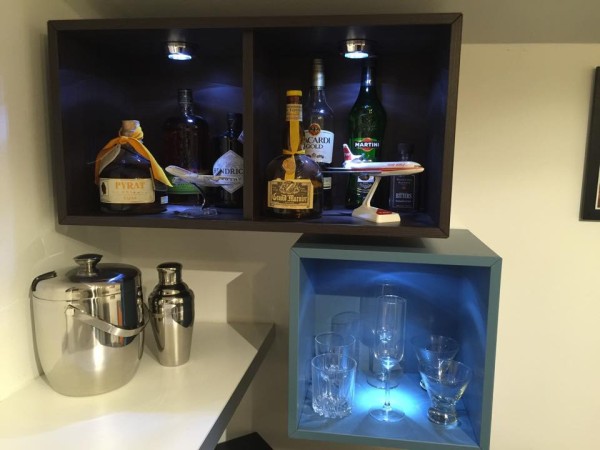 Note the model planes -- we flew the Air France A-380 on the left during our Lisbon trip, and my favorite TWA plane was the L-1011.
Below on the left, you'll see my prized Focal Upright stool. My standing desk is essentially a bar top that extends chest-height (for me, at least) along the left wall.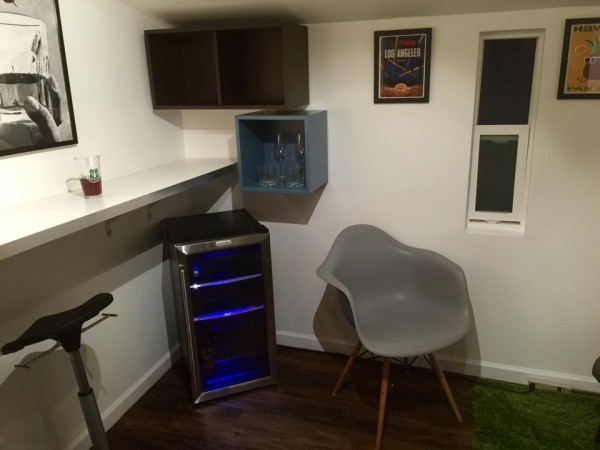 Results
I bet you can imagine how nice it is to work inside your own personal sanctuary.
I smile all day in this office. The first thing I do each morning is prop the doors open to let the fresh air in.
In the cool mornings, birds chirp and sing from the trees that surround me. It's such a calming spot to drink my coffee and start the day.
Midday, I'll take little breaks to step outside, get some sun and look for new flowers in my garden. I've got my Sonos in here, and I experiment with a new Tidal playlist every day.
In the afternoons, when my focus wanes, I'll sit on the floor and stare out at the clouds, or stretch to the soundtrack of the wind in the trees, or just meditate.
Then, when I call it a day, I shut the door and lock up the office, and walk back into the house. It's absolutely magical: all the psychological benefits of "leaving the office," without any of the hassle.
Officebar Gallery