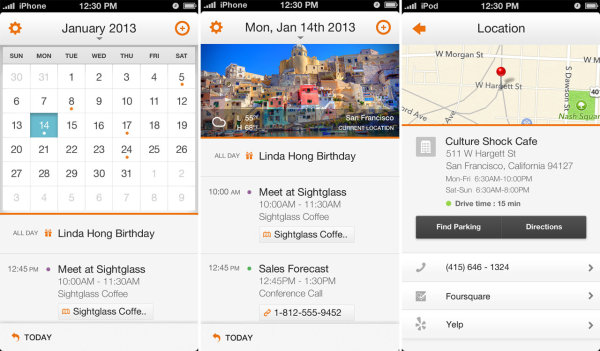 Are you an app hoarder (an individual who has a million different apps on their phone, but can never figure out which one has the information you are looking for)? If so, Tempo might help to solve your problem.
[contextly_sidebar id="2SBCcMLv8v1hCTSyPe21a5aIzviQ2qdy"]
What is it?
Tempo is a smart calendar that finds everything you need to be prepared for your day.
How it works:
Tempo links directly to:

iCal/Google calendar to import events that you already have scheduled
reminders to give you direct access within the app
weather to give you the high and low temperatures for each day
address book and social media accounts such as Facebook, Twitter, and LinkedIn so that you never miss a beat
Calendar Views:

monthly
2 weeks
weekly
daily
Cool Features:

You can join a phone call with one swipe or click directly within the app.
You can send a message directly from the app to notify event attendees if you are running late.
Best Features for Rebels:
If you do not like searching for anything, Tempo has all of your information in one place so you don't have to look through multiple apps to find things. It also thinks how you think. When you run a search, the first thing it brings up are agenda items you need to complete next or people that you will see within the next week.
Considerations:
Do you like separating out your tasks, events, etc.? If you do not think in terms of a daily agenda, but you prefer to separate information by context, Tempo might not be the right app for you. Tempo does not categorize items, but tells you everything that falls on your plate for that day. Combining that many apps into one central location can cause the app to appear cluttered, making it more difficult to stay organized for some.
Final Word:
If organization is not your strong suite, Tempo might be the tool that can help you stay prepared for what's next.