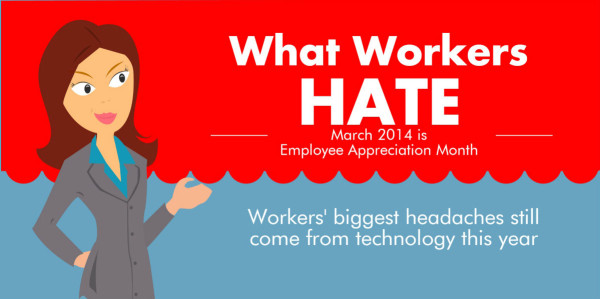 Many leaders are focused solely on producing great work, and producing it at a certain speed. While this is important, the other aspects of work life easily get overlooked. Office culture and comfortable working environments are just as important for workers to feel motivated to do their jobs, and to do them well. The infographic below from ccGenie outlines what workers hate and want from their work environments.
According to the infographic, the biggest complaints workers have about their offices include low office morale, outdated technology, low upward mobility, and heavy workloads. Many also feel that their colleagues could improve as a team -- more than half of those surveyed feel their teams could communicate and collaborate better.
A majority of communications (68%) happen through email. However, this comes with its own list of complaints. A third feel they receive too many emails, and 23% feel replies are too slow.
Aside from salary, more than a third of those surveyed want a better work-life balance. Meanwhile, others want less stress and more job security.
Lean more about what works hate and want from their work environments in the infographic below.