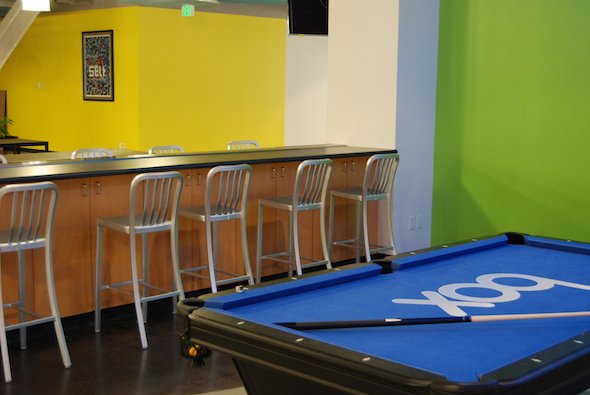 This week's Avant-Garde Offices star is enterprise software company Box, formerly known as Box.net. It was less than a year and a half ago when Box had just 125 employees. Cut to May of 2012 and the company has grown to a team of 400. Naturally, this meant a major move for the company to accommodate the ever-growing staff.
The new headquarters are located south of Palo Alto in Los Altos. The building is inundated with amenities like a game room, inspirational drawings and even hammocks for employees to catch a quick nap. One of the highlights, though, has to be the long spiral slide that takes you from an upper floor directly into the lobby. (Think of the energy costs they'll save on elevators!)
You'll see a lot of unicorns around the Box office. Rumor has it that the founders were giving a speech to inspire their employees but hadn't had a chance to properly prepare, so they ended up coming up with a scenario about how the "evil enterprise software" was trying to stifle the life force of the lovely unicorns. The unicorns, of course, were a metaphor for employees. The theme managed to stick, and apparently the fantasy of the unicorn has carried Box to heights worthy of a fairy-tale ending.
See more photos of the space by Matt Rosoff of Business Insider below.