At the recent press conference for his upcoming boxing match with Floyd Mayweather, Conor McGregor donned a pinstriped suit with a hidden message. When viewed up close, you can see that the stripes on McGregor's suit is actually made up of text that reads "Fuck You" over and over again.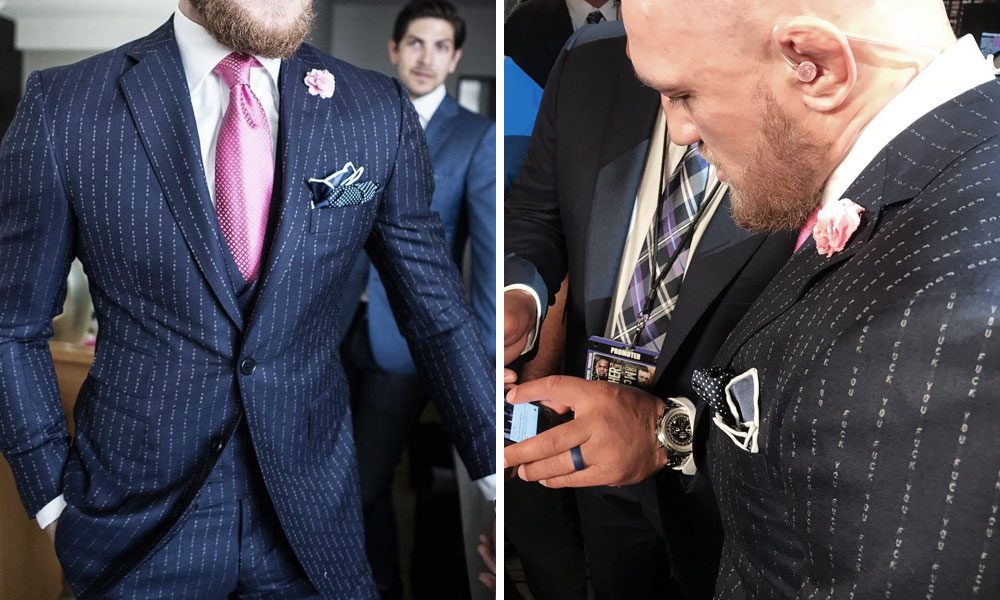 I am all about the notion of doing things the "right way" while still doing it my own way, which is exactly what McGregor has done here with his suit. He wanted to look professional, clean and crisp for the press conference, so he chose the "right" attire of a well-accessorized, tailored suit appropriate for live television and a red carpet. But he didn't lose out on showcasing his personality and being a little cheeky while he was at it, either.
In business, many of us struggle with walking this very fine line. There's a need to dress professionally and observe company dress codes, but also express your personality. Here are a few ways to help you achieve both.
3 Ways to Infuse Personality into Your Business Wardrobe
1. Use Accessories & Add Color
McGregor paired his not-so-pinstriped suit with a pink tie and polka dot pocket square, adding both colour and print and giving his outfit some extra pizzazz. You can do the same with jewelry, socks, shoes and handbags.
2. Use Online Stylists and Fashion Subscriptions
Shopping can be brutal, especially when you are shopping out of necessity. Skip the lines and turn to online services instead. You can find online personal stylists who can help you find that perfect mix of personality and professionalism, or subscription services that allow you to try out new trends without committing to them. I personally use a combination of Le Tote and Rent the Runway.
3. Find Your Signature Look
Every member of the Ridiculously Efficient team has a signature look that helps us get into warrior mode for front stage activities -- everything from client meetings to hosting a workshop. Part of mine, for example, is two Dutch braids. It keeps my hair out of my face, but helps me feel more confident and extroverted. My colleague Rosemina likes to wear red lipstick to help her feel confident and ready for situations that might be out of her comfort zone, while still feeling like her authentic self.