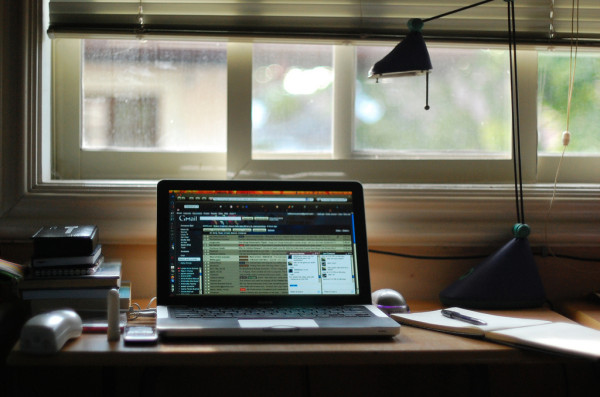 Many offices take time and a good chunk of money to create a positive environment that promotes creativity and productivity. When you're a telecommuter, you are tasked with creating this type of environment all on your own, usually on a pretty tight budget. It turns out your workspace has a pretty big impact on how productive you are, so it's important that you design a space that maximizes this potential. There are a few easy and simple design techniques you can implement in your home office that will help you maximize your productivity.
Design your home office with a view of nature. Looking at greenery helps boost your mental energy. If you don't have the option of a view, add a fountain just outside your window or a few plants in and around your field of view. Sticking to the nature theme, add something in your office that has unpainted wood. This natural wood grain will help keep you calm in a similar way that greenery will.
When positioning your desk, try to avoid an area that will have you staring at a wall. Since most of us stare at our computer screens, it helps your eyes if, when you look up, you can look into the distance. This gives a chance for your eyes to rest and reset before staring at your screen again.
You need to have control over your work environment, not the other way around. Use furniture like a rolling desk chair with multiple work surfaces that allow you to quickly and smoothly switch between tasks. However, if you are working with a small area, you don't really have space for more than one desk. You can try smaller controlled options like using a desk lamp or sitting by a window that you can open and close.
Just like greenery can boost your mental energy, green walls can boost your creativity while energizing you and creating a higher level of performance. And, stay away from red because it can hinder your performance on analytical tasks.
Lastly, and perhaps most importantly, don't forget to go outside. Working where you live can put you in a vortex of constant work and no play. Go outside, go for a walk, and don't forget to add a little fun into your day.