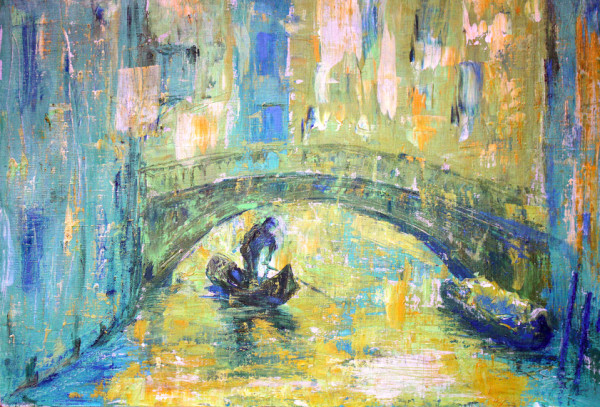 This is a guest post by Andre Smith.
Employees will typically spend more of their waking hours at work than at home during an average work week. An employee's environment can help or hinder their productivity.
Why Have Art in the Workplace?
A survey of more than 800 employees revealed that multiple companies have begun incorporating fine art in their workplaces. Why are businesses beginning to participate in this trend? It was revealed that this practice has increased creativity, elevated productivity, reduced stress, broadened employee appreciation and enhanced morale. It not only improves the environment, but employees stated that it increases quality of life, builds relationships and leads to networking opportunities.
[Tweet "Fine art in the workplace increases creativity and productivity, while reducing stress."]
How does it do all this? The purpose of fine art is for aesthetics, or beautifying the space. Having culture in the workplace can improve workplace culture itself. Linda Cordair, operator of the Quent Cordair Fine Art gallery, stresses the importance of fine art in a workplace. She says it helps "shape the company's unique style, spirit, and character, and convey that character to employees, partners, clients, and prospective clients." She states that the artwork chosen can either represent a positive and optimistic environment, or a boring and drained atmosphere. It leaves a lasting impression both on the employees who see it day after day, and on clients who visit either once or frequently. Art is important in the branding of a company's image as well as creating a pleasant and inspiring environment.
[Tweet "Having fine art in the workplace leaves a lasting impression on both employees and visitors."]
Not having art may represent a lack of permanence which translates into a troubling lack of dependability for employees and customers. This may give an impression of not putting down roots in the community or having stability for the employee.
Where to Acquire Fine Art
Fine art can be found online, along with resources for a free consultation. Using a professional consultant to help set up your office or lobby will help to make the best use of the space and also make the kind of impression you prefer to cultivate.
Some businesses lease or rent art in order to support the local artistic community. Leasing or renting art has multiple benefits. It is more affordable if purchasing is not a current option, plus there is the ability to rotate the pieces. This will keep the office area looking fresh as well as inspire dialogue. Many rental companies will also include maintenance and installation, which makes the whole process simple and convenient.
If your company is in the enviable position of purchasing fine art, it is highly advisable to have an appraisal done for insurance purposes. You'll want your fine art collection to be protected and inventoried, storing information including artist name and date, acquisition cost and current value. Fine art is an investment and will have enduring, long-term benefits.
Fine Art Placement
A great placement point for a prominent painting or sculpture would be the foyer or lobby by the front doors. This will set a precedent for all who enter the building, employees and clients alike. Keep in mind budgetary constraints as well as the type of image your business or service would like to convey.
It may also be beneficial to place particular pieces of art in meeting areas and boardrooms where employees can discuss ideas or clients can meet to converse about needs. An interesting piece of art can break the ice and stimulate conversation. This can also be the case in a private office. Other places that will benefit from fine art furnishings are lounge areas, well-traveled hallways and even cafeterias/lunch rooms.
Lighting is also something to consider. Recessed lighting focusing on the artwork or sculptures is ideal, but if that isn't possible then even lamplight or other soft lighting will work.
Types of Fine Art to Consider
Fine art can be paintings (whether original or tastefully done copies), print, watercolor, graphics, mosaics, sculpture and photography. Some contemporary art caters to a particular taste, so it is best to choose artwork and sculptures that is a bit more mainstream (see an example of such artwork in CKI Fine Art Rental catalogue). Decide on the ambience that is needed in the work area to either calm and soothe or excite and inspire to create.
Andre Smith is an internet, marketing and e-commerce specialist with several years of experience in the industry. He has watched as the world of online business has grown and adapted to new technologies, and he has made it his mission to help keep businesses informed and up to date. He's also an amateur photographer, admirer of Ansel Adams' work and fine art.