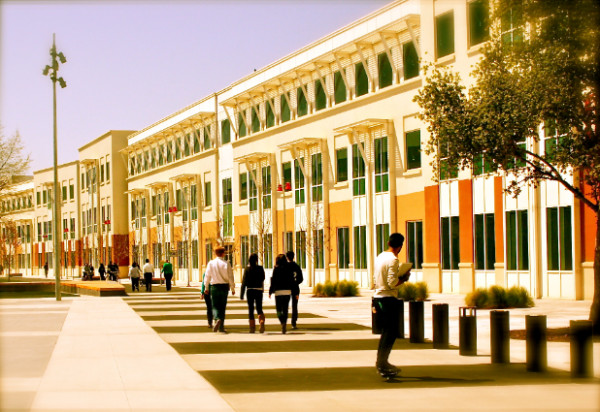 In kicking off a brand-new Avant-Garde Offices series here at Ridiculously Efficient, it seemed only appropriate to feature the new Facebook HQ first. As a child, you were probably allowed to mark your height on the wall with a pencil yet reprimanded for writing graffiti. Imagine as an adult working in an environment that not only allows you to mark your height on the wall, but also encourages you to write graffiti. These are only two of the many perks of working at the new Facebook offices, located on the outskirts of Menlo Park in Silicon Valley.
Facebook has built its new HQ with a unique mindset. In an effort to incentivize collaboration and transparency, you won't find any offices or cubicles on the campus. Not even Mark Zuckerberg has his own office. Other clever design cues include up-to-the-minutes interactive conference room screens and red motivational stencils of phrases such as, "Done is Better Than Perfect." There are also treadmill desks where you can work out while you work, along with vending machines with tech support.
Let's not forget that in addition to work and a fun environment, there are also mouths to feed. Facebook's cafeteria offers three free meals a day to employees and stocks additional free food in break areas. At the end of a long day, the staff can gather around any one of five bars located within the campus. These bars are fully stocked with hard liquor and beer.
Cheers to that! Check out more photos of the new Facebook HQ below, courtesy of Mashable.