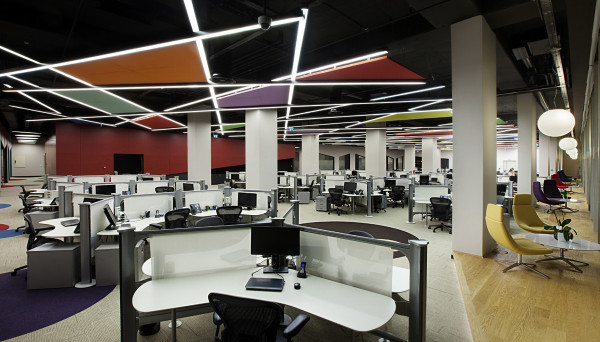 Open offices have a pretty bad reputation for getting in the way of worker productivity in favour of heightened collaboration. But it turns out open plan workspaces aren't just bad for productivity, they are also bad for your health. A recent survey from Canada Life Group Insurance suggests that open offices actually get in the way of the overall well-being of workers.
Canada Life Group asked participants, all of whome worked in open plan offices, to rank how easy it is to be healthy and productive in their current working environment. Health was given an average score of 6.1 and productivity was given a score of 6.5 out of ten. However, those who telecommute the majority of the time gave health a score of 8.1 and productivity a score of 7.7.
The survey also found that workers in open plan offices took more than 70 percent more sick days than remote workers. Open office dwellers are also six times more likely to feel their working environment promotes stress.
On the flip side, those who work in open offices agreed that their work environment made communication between colleagues easier (29 percent). Only 24 percent of those in private offices, 20 percent in cubicle offices and five percent of telecommuters felt the same.
"I have always worked for employers who appreciate that an increased level of productivity can be gained through a flexible approach to home working," said Paul Avis, marketing director of Canada Life Group. "While often missing out on the social aspects and colleague engagement, having clear, focused and uninterrupted time is priceless. I have found that a combination of home and office working is the best outcome for me, but note that employers should always be mindful of remote workers. At Canada Life we have field-based Sales Teams and home-based Claims Management Consultants and Rehabilitation Consultants; we certainly don't want them to feel isolated or under-valued purely because they do not come in to the office every day."
Avis adds that allowing employees to work from home can help to increase morale as well as reduce stress, especially for those with long commute times.
Are you a fan of open offices, or do you prefer to work from home? Tell us in the comments below!