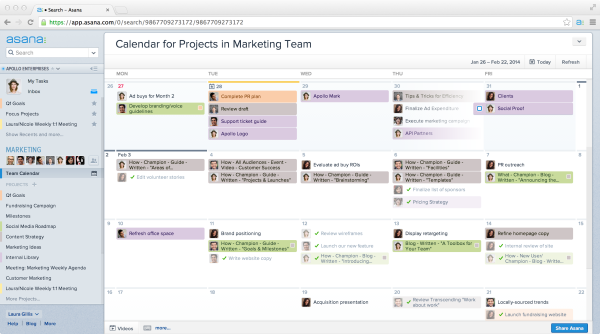 Team management tool Asana has added a new feature to make timelines and goals a little more concise. The new calendar feature allows teams to visualize tasks through a timeline, helping to keep the entire team on track.
The most appealing feature of Asana's calendars is that you can create a different calendar for each team and project your work on, as well as one just for yourself.
"And you can go much further than that: any search result can be viewed as a Calendar, letting you create Calendars instantly, from anything in Asana," Asana's blog reads. "For example, creating a Calendar of just the incomplete tasks in either 'Q1 Goals' or 'Marketing Projects', takes only a few seconds. You can then save that custom calendar as one of your Favorites, and even rename it to something familiar like 'Editorial Calendar'. The URL for that custom view is shareable, so you can send your Calendar as a 'live report' to anyone on your team."
As an added bonus, the calendars are automatically kept up-to-date as you make changes in your tasks, and the changes will be seen immediately by all team members.
You can learn more about Asana's new calendar feature in the video below.