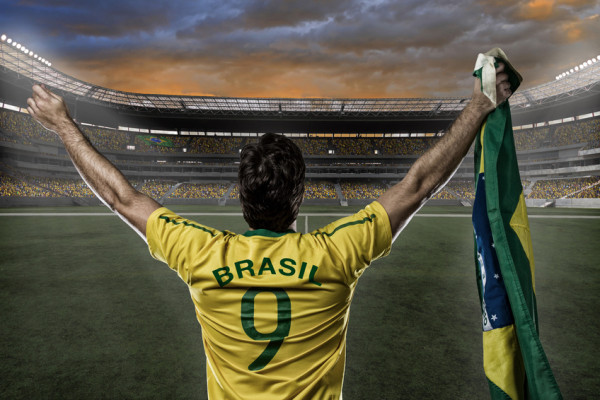 The FIFA World Cup is officially underway and, for a lot of people around the world, soccer is going to be everyone's main focus for the next month.The productivity lost during this time will be felt around the globe, but it doesn't have to be that way. While many studies have shown that there are going to be major productivity declines during the World Cup, there are many ways employers can embrace the spirit of the games to boost productivity and morale in the long run.
In the Middle East, where soccer matches will be aired late into the night and in the early morning hours, employees are expected to call in sick to work due to late night game-watching sessions. According to a survey from Gulf Talent, half of the employees in the UAE will be staying up late to watch matches, and 10 percent admit that they will come in late to work to catch up on sleep.
According to a UK survey by employment law specialists ELAS, this year's World Cup will cost Britain $6.7 billion in lost productivity. Nearly half of those surveyed said they would be taking time off in the next month of watch games.
Instead of trying to resist the inevitable productivity decline, embrace the spirit of the sport like many Latin American countries are doing. According to a survey from Mercer, a large majority of employers in Argentina, Chile, Columbia and Mexico will be allowing employees to cheer on their national teams by watching their games.
Here are a few ways to use the World Cup to boost productivity and morale in the long run:
Offer Flex Time
This is a great opportunity for your company to experiment with flexible schedules. People will find a way to watch their favorite teams, so you might has well give them the option to do so in the comfort of their own homes. Look for a few signs to see if the flexible schedules are working: how well is the team working together, are telecommuting employees able to stick to deadlines, and is everyone able to maintain a high quality of work? It's likely that employees will be grateful for the new perk, which will show in their work.
Keep a Scoreboard
Big sports fans will be spending a lot of time checking game scores, and the standings of their favorite teams. Assign one person to keep a scoreboard, which should also include the scores of on-going games. That way, employees don't feel they have to keep checking the score online, which can become a huge distraction and time-suck.
If You Can't Beat 'Em, Join 'Em!
Embrace the spirit of the World Cup at the office. Encourage employees to wear their jerseys to the office and let everyone watch games on communal televisions. Give everyone one afternoon off every week, go out for after-work drinks at a sports bar, and host a World Cup themed party. Have your own World Cup office bracket, which has actually shown to be great for team building. Getting everyone involved and bringing in a sense of fun to the office is sure to boost morale.
World Cup Themed Incentive Program
Unfortunately, work can't just stop for the next month. To ensure every deadline is met and nothing is overlooked, introduce an incentive program. Design it to look like an office pool, or hand out extra perks to reward those who have performed well. Offer afternoons off, use of the break room/private office to watch certain matches, or a free jersey/scarf/hoodie for the team of their choice. Tap into the competitive spirit of the World Cup and use this to encourage employees to produce great work.